About FASMS
Message from the Dean
Established in 2016, Faculty of Arts Social and Management Sciences (FASMS) is one of the foundation faculties of Coal City University. FASMS is a nascent faculty which has three departments and fifteen degree programmes namely: Accounting, Business Administration, Criminology/Security Studies, Economics, English and Literary Studies, History and Diplomatic Studies, International Relations, Marketing, Mass Communication, Political Science, Psychology, Public Administration, Religious Studies, Sociology and Taxation.
The faculty is committed to academic excellence. We emphasize student-centred learning as an active process and offer a holistic education designed to expand the students' horizons, enrich and enable them acquire rewarding careers. The Faculty accommodates University-wide core curricula on General Studies, Employability Skills, Entrepreneurship, Creative and Critical Thinking which play a pivotal role for a distinct and unified undergraduate education for self-actualization. By this, the students are prepared for not only careers today, but for careers that do not exist today.
The Faculty is in a very conducive, serene and friendly environment. FASMS has state-of-the-arts laboratories, modern classrooms fitted with multimedia facilities and complimented by well-equipped physical and virtual library.
Our students are trained by world class faculty and research mentors who make important scientific contributions in a wide range of disciplines. Also, our students have many chances to network and gain world class and real world experience through students exchange programmes and internships with both top class Universities, leading businesses and government agencies. Availability of online courses is an exciting feature of our teaching experience. These and other attributes make FASMS an exciting and diversified faculty in Coal City University.
You are welcome to our web page and we invite you to learn more about all we have offer.
Professor Joseph I. Aneke. PhD, FSM, FCAI, MNIM.
Dean, Faculty of Arts, Social and Management Sciences.
Mobile: +234(0)8034671078
Emails: [email protected]
[email protected]
B.Sc   Accounting
B.Sc Business Administration
B.Sc Economics
B.A Mass Communication
B.Sc Political Science
B.Sc Public Administration
B.Sc Sociology
B.Sc International Relations
Profile of Professor Joseph Ifeanyi Aneke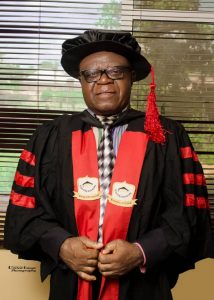 Joseph Ifeanyi Aneke is a Professor of Insurance. He is Dean, Faculty of Arts, Social and Management Sciences and Coordinator, General Studies Programme, Coal City University (CCU), Enugu. He is a highly motivated academic and a strong higher education value-chain driver through transformative teaching and multidisciplinary professional services. He is Chairman of many University Committees including CCU Programmes Accreditation Committee, Committee on Review of Guidelines on Appointments and Promotion of Academic Staff and Non-teaching Staff, and Staff Disciplinary Committee. He is Editor-in-Chief, CCU Journal of Humanities, and Editorial Board Member of many renowned Journals in his discipline.
Prior to his appointment in CCU in 2017, Professor Aneke was Dean, Faculty of Management Sciences at Enugu State University of Science and technology (ESUT), Enugu. He is the Pioneer Editor of ESUT Journal of Management Sciences. As a 6-years Head of Department of Insurance and Risk Management, he has a solid record of innovative academic leadership achievements and played a significant part in reshaping the structure and culture of the department. He was instrumental to the development of post-graduate programmes in that department.
Professor Joseph Aneke has vast experience and exposure in pedagogical developments and in creating learning communities. He is a Visiting Professor at Ahmadu Bello University (ABU), Zaria and Niger State University (NDU), Yenegua. He was a Visiting Professor at Kogi State University Anyimgba (2010-2015) and Adjunct Professor, Imo State University, Owerri (2005-2014). He has successfully supervised many MSc and PhD students in Nigeria and has served as External Examiner at Ebonyi State University, Abakaliki (2006-2014). He has published extensively in many renowned peer-reviewed Journals and authored four textbooks in his discipline and they are being used widely in tertiary institutions in Nigeria.
Professor Aneke is a Fellow and Member of Council, Institute of Strategic Management, Nigeria; Fellow, Institute of Corporate Administration; Fellow, Faculty of Risk Management and Member, Nigeria Institute of Management. He has a BSc degree in Mathematics and MBA in Finance both from University of Nigeria, Nsukka (UNN) and PhD in Agricultural Finance (Insurance and Risk Management Major) from ESUT. He has much interest in multidisciplinary research especially those related to Insurance, Risk Management, and Strategic Management.