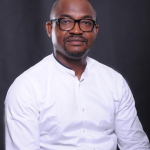 Member Strategic Advisory Board
Coal City University, Enugu
Kingsley Eze is the Managing Director/CEO Tenece Professional Services Limited – an enterprise transformation and technology-consulting firm, the Founder/CEO Genesys Tech Hub – a people and business capacity-development initiative designed to drive & support innovation, productivity and economic output in Nigeria, he is also the Managing Director/CEO Private Estates International West Africa – a real estate development firm. Kingsley is one of the emerging business leaders and corporate executives leading the charge in expanding Nigeria's economy into new frontiers. His career spans manufacturing, banking, venturing, information technology, real estates and business consulting.
He is a member of the Presidential Advisory Group on Technology and Creativity working closely with Government and other relevant stakeholders to articulate implement and support policies and initiatives that create an enabling environment for creativity and innovation in Nigeria.
Kingsley started his career as a financial analyst in Diamond Bank Plc. before proceeding to work with Accenture, Lagos, as a technology consultant in the Process and Solutions Engineering service line. Between 2005 and 2008, he was Head of E-Business, a strategic business unit, at NEXTZON Business Services Limited, Lagos. In that capacity, Kingsley led the most aggressive Government and Technology Strategy initiatives in Nigeria, providing technology-menabled transformation strategy and advice to state governments and their agencies in areas including land reform. Prior to that, Kingsley served as the founding Managing Director/CEO of GPS Solution Limited, An IT Solutions and Services Company with focus on providing cost effective technology solutions for public organizations, including educational institutions.
Kingsley also later served as the founding Managing Director/CEO of CFS West Africa, a global service management outfit that provides technology-enabled Integrated Service Quality Information Services (ISQIS) for customer-centric service organizations. Before leaving CFS, he led the company's transformation into the leading Service Management consulting business supporting the most service-focused businesses, including the banking sector, in Nigeria. Kingsley is an astute entrepreneur who in eleven years has grown Tenece Holdings to group of over five subsidiaries with staff strength of more than three hundred and business offices in Lagos, Enugu, Abuja, Accra, Addis Ababa & Dubai while building best people. Kingsley holds a B.Eng. Computer Science and Engineering from Enugu State University of Science and Technology. He is an alumnus of the London Business School and holds an MBA from the prestigious INSEAD business school.